‍Thursday, 27 January 2022 
Good morning. I came across the news from California about a 2-year-old becoming the youngest American to become a member of Mensa. Mensa's membership is strictly limited to those who score at the highest levels in IQ tests. Her skills include naming all of the elements on the periodic table, identifying all 50 states by shape and location, learning Spanish and deciphering patterns

Can you imagine raising this child?
- - -

P.S. Rewards await you when you invite your friends to subscribe to Freshly Pressed. Try it: www.freshlypressed.ng/?r=. You currently have ‍referrals.
☕️QUICK BITES
Canada. Canada is an all-comer country and that we know well. Do you want to relocate but think you have limitations, real or imagined? When you base your guidance on what you read on Google or the snippets people give here and there, you can get even more confused and resigned. Well your relocation is possible if you can apply tested simple steps outlined in this guide to make your Canada dream come through.

United Kingdom. UK registered more deaths than births in a calendar year for the first time in 44 years. The number of births decreased by around 29,000 in 2020, to approximately 683,000, while the number of deaths increased by 85,000 to nearly 690,000. Approximately 90,000 deaths last year were attributed to coronavirus. The 13% increase in deaths was the largest annual rise since World War Two.  
Gates Family. B and Melinda French Gates will remain co-chairs of their foundation for two years. After that trial period, if either party determines they can no longer work together, French Gates will step down. The B & Melinda Gates Foundation has a $49.8B endowment, the world's second-largest charitable foundation after the Novo Nordisk Foundation, which has a $73.1B endowment.

China. It is exploring the potential use of rockets to deflect Earth-bound asteroids. Researchers found that 23 of China's Long March 5 rockets simultaneously hitting a large asteroid could deflect it by a distance of 1.4 times the Earth's radius, thereby avoiding disaster. On average, asteroids more than 1,000 feet across hit Earth once every 10,000 years. Such impacts can cause widespread global destruction. 

ONTHISDAY
893 Daniel Williams repairs the torn pericardium of a knife wound patient, James Cornish, without penicillin or blood transfusion

1877 First ever Wimbledon tennis championship begins - first official lawn tennis tournament - men's singles only

1982
Would You Believe?
Michael Fagan breaks into Buckingham Palace and enters the Queen's bedroom in Buckingham Palace, London

2002 The African Union is established in Addis Ababa, Ethiopia. The first chairman is Thabo Mbeki, President of South Africa.

NIGERIA
Kemi Adeosun Makes a Bold Comeback

The Story
A federal high court in Abuja has ruled that former minister of finance, Kemi Adeosun, had no responsibility to produce a National Youth Service Corps (NYSC) certificate to enable her to hold public office in Nigeria.

Is that so?
In its ruling in the suit marked FHC/ABJ/CS/303/21 brought by Wole Olanipekun(SAN), on behalf of the former minister, the court held that the constitution does not state the NYSC certificate is a mandatory requirement for holding a political office in the country. Adeosun, then Nigeria's minister of finance, was accused of forging her exemption certificate, a document issued to Nigerians excluded from carrying out the mandatory one-year national youth service.

What did the court say on the NYSC certificate forgery?
The court did not speak on the allegation that Adeosun forged the certificate. In 2018, Adeosun, who said she was issued with a certificate that she thought was genuine, expressed shock after investigation revealed that the exemption certificate was not genuine. She eventually resigned after months of controversy that trailed the issue.

Reacting to the court ruling, Adeosun expressed delight for the "official clarification". "This ruling vindicates me after a very traumatic spell. It is, however, not only a personal victory; it's also a victory for many Nigerians in the diaspora under similar conditions desirous to serve their country", she said in a post on Facebook. SOURCE

LATIN AMERICA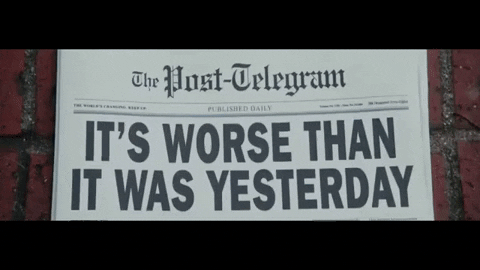 The Story
Haiti's in turmoil.
What's going on?
On Wednesday, gunmen assassinated the Caribbean country's President Jovenel Moïse in his Port-au-Prince home. His wife, first lady Martine Moïse, was wounded and is in critical condition. Authorities killed four suspects and arrested two others hours later. They're believed to be well-trained killers who allegedly impersonated DEA agents to enter the home. Now, interim Prime Minister Claude Joseph's taken over the government. He declared a "state of siege" – which allows things like putting the military and police in charge of security, closing borders, and banning gatherings. Joseph called for justice and peace. But Haiti's been far from calm for a long time.
What do you mean?
Moïse, who took office in 2017, had been ruling by decree for over a year and refused to hold elections – prompting concerns of a dictatorship. Haitians took to the streets, angry over his alleged corruption and attempt to hold onto power. And accused him of mishandling the economy. Haiti is one of the poorest countries in the world. And natural disasters like the 2010 earthquake haven't helped. An estimated 60% of Haiti's 11 million citizens live below the poverty line. All the political and humanitarian unrest has led to even more instability.
What are people saying?
World leaders including from the UK and US have condemned the assassination. President Biden denounced it as "heinous." And said the US – which is Haiti's top aid donor – is ready to help "work for a safe and secure Haiti." The US Embassy in Haiti has closed amid security concerns. The UN could meet today to evaluate the situation. Meanwhile, some Haitians are apparently concerned because security forces are said to be understaffed and ill-equipped. In recent weeks, several officers have died as they've tried to bring order to the country.
The end does not look to be in sight.
Haiti is still suffering from the natural disaster that devastated its economy and plunged it into a humanitarian crisis. Now, the president's assassination amid political unrest has only added to the country's uncertainty. SOURCE

NORTH AMERICA
The Story
In June, President Biden pressed Russian President Vladimir Putin to stop giving safe haven to REvil and other ransomware gangs whose unrelenting extortionary attacks the U.S. deems a national security threat.

How are these attacks carried out?
Ransomware criminals infiltrate networks and sow malware that cripples by scrambling all their data. Once the ransom is paid, victims get a decoder key. REvil is best known for demanding $11m from the meat-processor JBS after a Memorial Day attack. On Friday a REvil affiliate conducted the single biggest global ransomware attack on record. It infected thousands of victims in at least 17 countries, largely through firms that remotely manage IT infrastructure for multiple customers. The attack took place just before the holiday, when most U.S. firms would be lightly staffed.

Has ransom been paid on this?
Most ransomware victims don't publicly report attacks or disclose if they've paid ransoms. Dutch researchers alerted Miami-based software company Kaseya to the breach, saying the criminals used a "zero day," the industry term for a previously-unknown security hole in software. Kaseya's CEO Fred Voccola said he believes the criminals didn't just violate Kaseya code in breaking into his network, but also exploited vulnerabilities in third-party software. The company told customers to shut down their VSA servers immediately; it also shut down its cloud-based services as a precaution.

Elsewhere a broad array of businesses and public agencies were hit, including financial services, travel and leisure, and the public sector. Swedish grocery chain Coop said most of its 800 stores would be closed again Sunday because their register software supplier was crippled. A Swedish pharmacy chain, gas station chain, public broadcaster, and the state railway were also attacked. An unnamed German IT services firm said several thousand customers were compromised; also hit were two big Dutch IT services companies.

How do these gangs get the ransom payments without being caught?
Sophisticated ransomware gangs on REvil's level usually examine a victim's financial records from files they steal before activating the ransomware. The criminals then threaten to dump stolen data online unless paid. In this case, cybersecurity researchers said late Sunday that REvil had made a lump sum offer on its dark web site: a universal decryptor software key that would unscramble all affected machines in exchange for $70m in 'cryptocurrency'. One expert said he suspects REvil is hoping insurers might crunch the numbers and determine $70m will be cheaper for them than extended downtime.

Has the attack been traced to Russia?
On Monday, Putin spokesman Dmitry Peskov said Russia was unaware of the attack, but suggested it could be discussed in consultations on cybersecurity issues, for which no timeline has been specified. Another expert said while he doesn't believe the Kaseya attack is Kremlin-directed, it shows that Putin "has not yet moved" on shutting down cybercriminals. The FBI issued a statement Saturday saying it was investigating the Kaseya attack, but its scale "may make it so that we are unable to respond to each victim individually." SOURCE

EAST ASIA
The Story
The internet has been of great benefit to mankind, especially in the area of connecting people. However, as great as its benefits are, so are the risks. Romance scam is one risk that many have fallen victim to, and sadly, not all the victims live to tell their story.

What's the news?
Japan's Supreme Court has upheld a death sentence given to a 74-year-old serial killer known as the "Black Widow." In calling her crimes ruthless, one judge said: "She used the matchmaking agency to get acquainted with elderly victims one after another and poisoned them after making them trust her."

Wow! How was she caught?
Police began investigating Chisako Kakehi after her husband died in 2013, less than two months after their wedding. An autopsy found cyanide in his stomach and blood, and Kakehi was arrested 11 months later. At her trial in 2017, Kakehi was found guilty and sentenced to death for using cyanide to kill two other men besides her husband, and attempting to kill a fourth, between 2007 and 2013.

Why was she targeting men?
From the investigations, her motivation appears to be primarily financial. After each man's murder Kakehi immediately began the process for inheriting his assets. Her legal team appealed the death sentence on the grounds Kakehi suffered from dementia and was incapable of aiding in her defense, but the court rejected her appeal. A date has not been set for her execution. SOURCE

WHAT ELSE IS FRESH...
Baptist school students: Parents panic as bandits threaten starvation, demand 30 bags of rice 
National Assembly ignores South govs, others, defends controversial PIB provisions

DSS hold on to youths arrested over Buhari-Must-Go shirt, bars lawyer

Senate okays Buhari's $6.1b external loan request

Malami slams Canadian Solicitor General over criticism of Kanu's arrest
COVID-19: NCDC confirms deadly Delta variant in Nigeria

INEC: Stop the denial, PDP slams Onochie over APC membership

N900m Fraud: Ex-JAMB Registrar, Ojerinde secures N200m bail

Absolutely incomprehensible' - Sterling penalty award in Euro 2020 semi-final baffles former FIFA referee ....

South Africa's Ex-President Zuma Starts Serving Jail Term For Contempt

Defense Department cancels $10B cloud computing contract with Microsoft

France set to make vaccination compulsory for heath workers

Japan will place Tokyo under a state of emergency for the duration of the 2020 Olympic Games.


PICKS OF THE DAY
Read new Amazon CEO Andy Jassy's first company-wide email here.
Ranking the best TV sitcoms of all time. RollingStone

Reviewing the reviews Jeff Bezos left on Amazon. Inc

Work: Simplify your time management with the "Rule of 4" (hours per day). Inc


Why We Can't Tell the Truth About Aging. New Yorker

Train Your Brain to Remember Anything You Learn With This Simple, 20-Minute Habit. Inc

How To Gain More From Reading. Psyche
TODAY'S TRIVIA
What does the Phantom Vibration Syndrome mean?

QUESTION & ANSWER
QUORA QUESTION: 
If you are allowed to pick 1 thing from each country you have visited until now, to make your ideal country to live in, how would that look?
Quora User:
My ideal country has:
- The landscapes of Norway; there is nothing like a snow capped mountain towering over ocean.
- The friendliness of Canada; I want to be greeted like an old friend by complete strangers.
- The beaches of New Zealand; fine sand and bright blue water, in a temperate climate where you never get hot feet, and you smell wild gorse; smells like coconut skin lotion.
- The homes of Sweden; supremely well-built and proportioned, with tasteful interiors and modern, clean, fully electric systems.
- The breakfasts of England; fried eggs, Cumberland sausage, bacon, hash browns, beans, brown toast, mushrooms. A day starting that way is already a full success.
- The tea of India; and I mean, not only should it be strong, dark Assam, but it should be served with milk, by a walla, whenever I ring.
- The food culture of France; it's not so much about what's served, but how people enjoy it; sitting at the table for a loooong time, pouring one glass of wine after another, as the conversation flows.
- The food of Jordan; all these incredible things based on nuts and pulses… Arabic food is a dream for people who are both hungry and health conscious. Nothing is more satisfying to eat.
- The coffee of Turkey; that traditional stuff with the grounds at the bottom!
- The music of Brazil; there is something both dreamy and compelling about much of the music coming out of Brazil. They manage to make music that is both relaxing and invigorating at the same time.
- The luxury sedan cars of the United States; some of the world's greatest cars are American. I particularly like the 1966 Oldsmobile Toronado, but also the Cord 810, the Duesenberg J, and the big Lincoln starring in The Matrix. And then, of course, you've got Tesla, that breath of fresh air.
- The cultural sophistication of Japan; if you've been to Japan, you know what I mean. There is such depth to everything, you could write a lecture on just about anything. Tea pots, rice, roof beams… everything in Japan is the result of long, historical dedication.
- The geothermal capabilities of Iceland; it's fantastic, you have hot springs and hot water directly out of the ground.
- The glitz of China; I love how China unashamedly enjoys luxury. For someone who has been steeped in the Bauhaus spirit all his life by growing up in Germany, that jolly, Chinese way of saying yes to everything that is laden with gold, upholstered in white leather, and decorated with embroidered elephants is such a breath of fresh air. Bring on the glitz!
- The plazas of Spain; so nice to have an oasis of rest every few blocks in a city.
- The mellowness of Paraguay; "tranquilo" is an ideal in Paraguay, and it should be everywhere, I feel. The world would be a better place if everyone were to buy into doing things slowly.
- The wines of Argentina; for me, wine needs to be so dark, it is almost black; it needs to be fiery as brandy, fragrant, and strong. Try Malbec from Argentina, it does that very well. SOURCE
TRIVIA ANSWER
A "Phantom Vibration Syndrome" is when you feel your phone vibrate but it actually wasn't. Research suggests this occurs when someone is being over-involved with their phone.

BESHEL'S CORNER 
HUMANS OF THE INTERNET! 
SHARE THE PRESS
Chances are you have some more friends who would enjoy Freshly Pressed as much as you do.

Use this referral link or share this link to them www.freshlypressed.ng/?r=
FOR ADVERTS
Because we have a wide readership, it's very likely that your type of customers are on our subscription list. Advertise with us. Reach out on Whatsapp: +234 806 379 8271
---
‍This email was sent to because you subscribed to the Freshly Pressed newsletter. If you are no longer interested in receiving this email please unsubscribe from this list.