Good morning. Adults can claim a complimentary joint of marijuana in Washington state when they receive a COVID-19 vaccine shot.
Anyone who calls it a "joint of marijuana" doesn't want a joint.
- - -
P.S. Rewards await you when you invite your friends to subscribe to Freshly Pressed. Try it: www.freshlypressed.ng/?r=. You currently have ‍referrals.
☕️QUICK BITES
Zambia. Former President Kenneth Kaunda is receiving treatment for an undisclosed illness at a military hospital in the capital Lusaka. The 97-year-old ruled Zambia from 1964, when the country won its independence from Britain, until 1991. He is among the continent's few surviving liberation heroes.
Vaccine. A fourth vaccine maker -- the small American company Novavax -- announced the results of its clinical trial in the U.S. and Mexico showed its two-dose Covid-19 vaccine produced an overall efficacy rate of 90.4%, on par with vaccines made by Pfizer-Biotech and Moderna, and higher than the one-shot Johnson & Johnson vaccine.
Euro2020. The value of Coca Cola fell in the region of $4B after Cristiano Ronaldo disparagingly removed two bottles from their place at his press conference. Upon arriving for his media duties ahead of Portugal's opening Euro 2020 game against Hungary, the attacker sat down and then pushed two bottles of Coke to one side. He then pointedly raised a bottle of water.
Space. Jeff Bezos's spaceflight company, Blue Origin, has auctioned off a seat on its first human-crewed spaceflight for $28M. The unknown bidder will join Bezos and his brother on an 11-minute flight 62 miles (100km) above the Earth. The flight will use Blue Origin's New Shepard rocket and launch on July 20. Bidding started at $4.8M and closed at $28M after a nearly month-long online auction process.
ONTHISDAY
1944 George Stinney, a 14-year-old African-American boy, is wrongfully executed for the murder of two white girls, becoming the youngest person ever executed in 20th-century America

1959 South African Apartheid government efforts to remove Black people from Cato Manor close to the Durban city center to newly established black township Kwa Mashu, on outskirts met with violent resistance

2015 TV personality and Real estate mogul Donald Trump launches his campaign for the Republican nomination for US President at Trump Towers
NIGERIA
How Much Debt Does Nigeria Owe China?
The Story
The Buhari's administration has borrowed $2.02B as loans from China from 2015, data obtained from the Debt Management Office on Monday showed.

Do you know the details of the loans?
According to the statistics obtained from the DMO, Nigeria's total debt from China as of June 30, 2015 stood at $1.38B. However, as of March 31, the country's debt portfolio from China had risen to $3.40B. According to the DMO, loans from China are concessional loans with interest rates of 2.50% per annum, a tenor of 20 years and grace period (moratorium) of seven years. The debt office said that the terms of the loans were compliant with the provisions of Section 41 (1a) of the Fiscal Responsibility Act, 2007.

What were the loans used for?
The loans from China are tied to projects. The projects, (eleven in number as at March 31, 2020), include the Nigerian Railway Modernisation Project (Idu-Kaduna section), the Abuja Light Rail Project, Nigerian Four Airport Terminals Expansion Project (Abuja, Kano, Lagos and Port Harcourt), Nigerian Railway Modernisation Project (Lagos-Ibadan section) and the Rehabilitation and Upgrading of Abuja-Keffi-Makurdi Road Project. The DMO said the low interest rates on the loans reduced the interest cost to government while the long tenor enabled the repayment of the principal sum of the loans over many years.

Given the country's revenue generation challenges, what would happen if there's a default on the loans?
There had been fears among Nigerians that the country may forfeit some of the projects in case of loan defaults. The fear grew when the Minister of Transportation, Rotimi Amaechi, in August 2020, confirmed that the country waived its sovereign immunity to obtain Chinese loans. The minister, however, added that as long as debts were repaid, there would be no need for China to claim any infrastructure. "We must learn to pay our debts and we are paying, and once you are paying, nobody will come and take any of your assets," he had said.

Despite the assurance, fear persists that the Chinese loans contain some obnoxious clauses that could breach the nation's sovereignty especially as the loan agreements are not available in the public domain. Amaechi denied knowledge of any clause that hands over a national asset to China in case of any default in an AriseTV interview on Monday. He disclosed that the administration of Major General Muhammadu Buhari had paid $150m out of the $500m borrowed by the administration of President Goodluck Jonathan for the Abuja-Kaduna Rail project. SOURCE
NIGERIA
Bello Wants More for States
Source: Punch Newspapers
The Story
Kogi Governor Yahaya Bello has called for an upward review of the revenue given to states that produce solid minerals.

What's his argument?
He wants the allocation to be reviewed from the statutory 13% to 20%. Bello stated this at the North-Central zonal public hearing on the ongoing constitutional amendments in Lokoja on Tuesday. He argued that the current 13% did not measure up to the attended negative consequences of mining activities. "Thirteen per cent derivation is not commensurate with degradation and other effects of mining in host communities. I recommend 20% equity share for states on solid mineral mining," he said.

A Case For Unicameral Legislature
Governor Bello expressed his support for the constitutional review exercise, stressing that review was "one of the tools to address issues in the national polity." Similarly, Ondo's Governor Oluwarotimi Akeredolu called for the scrapping of the Senate, with each zone having an equal number of four representatives at the National Assembly. Akeredolu said this at the Akure Centre of the Southwest Zonal Public Hearing, organised by the House of Representatives Special Committee on Constitution Review. Akeredolu, represented by his Deputy, Mr Lucky Aiyedatiwa, said the country should consider dropping the current bicameral structure of the National Assembly and adopt a unicameral legislature.

"The membership of the Assembly should be part-time. No member should earn allowances not known to the Revenue Mobilisation and Allocation Committee, and the people they claim to serve. Legislators should earn under a uniform salary structure. Allowance peculiarities must not be about obscenity", he argued. "The Senate should be scrapped. The House of Representatives too should not be unwieldy. A maximum of four representatives should come from each Zone," he said. SOURCE
EUROPE
The Story
After 12 years in power, Bibi's out.
Go on.
PM Benjamin Netanyahu (aka Bibi) has been at the helm of Israel's government since 2009, guiding the country through an economic boom as well as political turmoil. In that time, the right-wing leader approved Jewish settlements in the West Bank and declared Israel the nation-state of the Jewish people. He set up formal diplomatic relations with Bahrain, Sudan, Morocco, and the UAE. And led one of the most successful vaccination campaigns against COVID-19 worldwide. Supporters say Bibi put Israel on the world stage. Critics say he weakened Israel's democracy.
Now what?
After four elections in two years, Bibi's clearing out his desk. During the latest election in March, Netanyahu's party fell short of the 61 seats needed to rule parliament. Then, he failed to piece together a coalition government. So far-right leader Naftali Bennett and centrist Yair Lapid teamed up to give it a shot. And pulled it off. After a narrowly-passed vote of confidence, Bennett was sworn in as Israel's new PM. As agreed upon, Lapid will put on the PM hat in two years. But Netanyahu's not moving on just yet.
What do you mean?
He'll still remain leader of the largest party – now the opposition party – in Israel's parliament. In that capacity, he says he hopes to keep the pressure up and ultimately "bring down this dangerous government" to get back in the driver's seat. Meanwhile, Bennett's now in charge of the most diverse ruling coalition in the country's history – including an independent Arab party for the first time ever. It comes after heightened Israeli-Palestinian tensions in the most recent deadly conflict.
The man, Bibi.
Benjamin Netanyahu will go down in history as Israel's longest-serving PM. His exit leaves a vacuum. Now, all eyes are on whether the next government has what it takes to make its own lasting mark on Israel's future. SOURCE
INTERNATIONAL
A New Turn In International Politics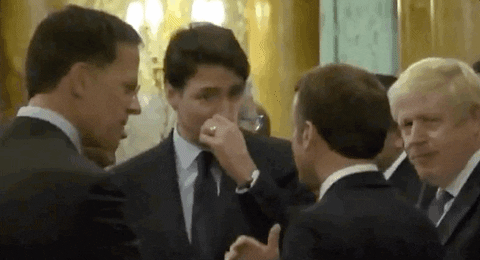 The Story
President Biden was at the G-7 Summit in London last week, and it seems to basically be the cool kids' club of world leaders.

How do you mean?
After four years of President Trump's often antagonistic approach to foreign policy, many of the leaders in the G-7 this year are breathing a sigh of relief to have President Biden present instead. On Saturday, Presidents Macron (France) and Biden were standing side-by-side when Macron was asked if the United States was "back," and Macron said, "definitely." Queen Elizabeth also commented on the more pleasant vibe, asking the group, "are you supposed to be looking as if you're enjoying yourself?"

What are the subjects of the Summit?
The first session on Friday focused on how to stop the spread of the coronavirus pandemic, and unlike his predecessor, Biden appeared prepared for the conversation. Sat between Justin Trudeau (Canada) and Boris Johnson (U.K.), Biden talked about the Pfizer doses America had purchased to help other countries in their inoculation efforts. The second session, however, was less amicable, as the countries discussed how to handle China.

Are they divided over China?
America, Canada, and Britain were pushing for stronger actions to be taken against China for their authoritarianism and forced labor camps in the Xinjiang province. According to those familiar with the talks, Biden made a somewhat forceful call for the other countries, namely France, Germany, and Italy, to denounce China's measures and take action. However, despite the tension among the disagreeing leaders, the atmosphere was still respectful, and those who were there in the past few years noted the change in decorum. The focus was on coming to an agreement and compromising, rather than continuing to argue and exchange jabs.

The end of the summit typically comes with a summary of what was discussed, and the leaders have yet to decide how strongly to denounce the labor camps in China that target ethnic minorities. The group has, however, agreed to support Biden's new plan to counter China's Belt and Road initiative. SOURCE
WHAT ELSE IS FRESH...
Twitter ban: ECOWAS court fixes June 22 for hearing
Outrage as FG demolishes 12 Lagos churches on alleged illegal plots
Super Falcons celebrate after 3-3 draw with Portugal
TB Joshua's funeral rites for July 5 to 11
'Pure insanity': emails reveal Trump push to overturn election defeat

Portugal's Cristiano Ronaldo breaks goals record in historic fifth finals appearance

Buhari approves employment for families of slain NYSC members

Sustaining reforms critical to robust economic recovery — World Bank

CNN's Christiane Amanpour diagnosed with ovarian cancer
Crude oil prices climb to highest levels in three years as demand rebounds
PICKS OF THE DAY
The 2021 Pulitzer Prize winners for journalism. Axios

The world's most livable cities. CNBC

NASA snaps a photo of Jupiter's biggest moon. BusinessInsider


The Health Benefits of Coffee. NY Times

The new science of sleep: Everything we know about how it affects your health and brain. Science Focus

Radical acceptance. Aeons

How To Love and Trust Again. Guardian

Doubling down on nonsense. Medium

Miscellaneous Thoughts. Medium
TODAY'S TRIVIA
S'agapo means "I Love You" in which language?
a. Russian
b. Latin
c. Greek
QUESTION & ANSWER
QUORA QUESTION:
What is the easiest psychological trick you can play on someone?
Quora User
1. To keep people in the same place: If you are having a meeting and notice that some people are already getting up to leave even though you've not finished talking, make sure to stay seated. Most people will sit back down in response.
2. To make someone agree with you: Nod while you're asking a person for something or want to convince them of the point you are making. This subconscious cue works almost every time, making others agreeing with you.
3. To make sustaining eye contact feel natural rather than forced: Holding eye contact is of utmost importance for forging connections, but sometimes it becomes uncomfortable or forced for both parties when one deliberately tries sustaining it.
But there is a great way to make sustaining eye contact feel more natural instead. So how is it done? Try assessing the color of the person's eyes while speaking to them.
By doing so, you'll be ensuring that eye contact is sustained appropriately without feeling awkward about it.
4. To make someone associate positive adjectives with you: compliment them. People will start associating the adjectives you use for describing other people with your own personality.
This phenomenon is otherwise known as the spontaneous trait transference and occurs even when people know that certain traits don't describe people who had talked about them by using certain adjectives.
5. To make someone feel positive or happy: Try your best to communicate positive emotions. This effect is connected to emotional contagion, which means that people become influenced by the moods of others around them.
6. To make someone like you more: reveal your flaws occasionally. According to the pratfall effect, other people will like you more if you make a mistake.
There is one caveat though; this trick only works if you are already being seen as a competent person.
7. To make yourself look like a naturally good listener, even if you aren't one: Paraphrase what someone else has just said and say it again. Remember to not be too obvious though.
8. If you want someone to carry something for you: hand it over to them while talking. Most people won't notice that you're handing them something and they will take it.
But note that this trick may not work on people who are naturally more attentive as well as less close to you.
9. To get friendlier with a person: emphasize your shared values. In other words, try finding a point of similarity between the two of you and then highlight it.
This is according to the "similarity-attraction effect", stating that you are more attracted to those who are similar to you.
10. To give someone positive memories of your conversation or interaction: let them talk about themselves. One study showed that when people talked about themselves, the reward system of the brain became activated, meaning talking about oneself felt actually rewarding. SOURCE
TRIVIA ANSWER
S'agapo means "I Love You" in which language?
c. Greek
BESHEL'S CORNER
HUMANS OF THE INTERNET!
SHARE THE PRESS
Chances are you have some more friends who would enjoy Freshly Pressed as much as you do.
Use this referral link or share this link to them www.freshlypressed.ng/?r=