Good morning. Q: I keep sharing my link with people, but my referral count isn't changing.
A: After someone signs up using your link, they need to confirm their email address (this ensures the email is legit). After they confirm, your referral count should be updated within a few hours. So if you're not seeing your count updated, it means you need to bug your friends to confirm their email in their inbox.
- - -
Don't give up. Your link: www.freshlypressed.ng/?r=
☕️QUICK BITES
Ghana. It has been selected as a possible manufacturing hub for COVID-19 vaccines in Africa. The statement was made following a recent meeting in Belgium between Ghanaian President Nana Addo Dankwa Akufo-Addo and Dombrovskis.
European Union. The Union moved forward with a plan for EU-wide vaccination certificates, after announcing the bloc will reopen for quarantine-free travel from countries deemed safe. The holder is free to travel around the bloc with no need to quarantine.
United States. It proposed a minimum global corporate tax rate of 15%. The Treasury Department argues that such a move would prevent corporations from moving their headquarters to other countries in a bid to avoid paying taxes. Treasury Secretary Janet Yellen called on countries to "work together to maintain our tax bases and ensure the global tax system is equitable."
Argentina. Seven medical professionals who treated the late Argentine soccer star Diego Maradona have been charged with homicide in connection to his November death. Leaked audio of conversations between Maradona's doctors and entourage suggests that he may have been neglected and treated recklessly following brain surgery last year. Maradona died of heart failure two weeks after the procedure.
‍RECOMMENDED
‍Become a Professional Web Designer in Step-by-Step Guide.
ONTHISDAY
1915 Thomas Edison invents telescribe to record telephone conversations

2000 Israeli troops withdraw from southern Lebanon after 22 years of occupation

2004 North Korea bans mobile phones

2016 Kaduna state in Nigeria declares a state of emergency due to 'Tomato Ebola', as moth destroys 80% of tomato crops
NIGERIA
Service Chiefs Who Died in Air Crash
Image Source: Guardian Nigeria
The Story
Nigerians were shocked with the news of a military aircraft crash last Friday, and many have still not recovered from the shock. This is quite understandable, given the victims of the crash, a list that included the Chief of Army Staff, Ibrahim Attahiru.

Have they determined what caused the crash?
There's been no official statement, yet, on the cause of the crash. While Nigerians have expressed displeasure over the crash, the events that followed, and the number of times such sad occurrence has taken place in the country, here's a report on the history of this sad trend, in which a similar fate has befallen the heads of the Nigerian military.

This isn't the first time?
No, it's not. It is even more worrying as this is the third time a military aircraft has been involved in a fatal accident this year — claiming the lives of about 20 officers in that short time. Attahiru, who was appointed Chief of Army Staff just about four months ago, is the fourth service chief that the country will be losing to aircraft mishaps. The first victim, Joseph Akahan, was a 30-year-old, who was appointed Nigeria's chief of army staff some months before his death in 1968.

How did it happen?
It was the inception of the Nigerian civil war, Akahan, after a visit to the frontline in Nsukka, returned to his hometown in Gboko for a brief rest, following which he commenced the journey back to Makurdi. He had barely left Gboko when the helicopter conveying him crashed. He and two pilots in the aircraft did not survive. After Akahan, Shittu Alao died at the age of 32, just two years into service as Nigeria's chief of air staff.

Even a Chief of Air Staff?
Alao died in active duty while taking a solo flight in an L-29 aircraft. He had encountered bad weather somewhere around Benin and ran out of fuel while straining to navigate the fog. His attempt to make an emergency landing was terminated by trees and the aircraft crashed, killing the 32 year old. Unlike others, the third victim, Andrew Azazi, died after he had left service. He was first appointed chief of army staff in 2006 by former President Olusegun Obasanjo, and was subsequently named chief of defence staff under the late President Umaru Musa Yar'Adua administration.

Azazi, who was also National Security Adiviser to former president Goodluck Jonathan, died in a helicopter crash around Okoroba Village in Bayelsa, with Patrick Yokowa, then governor of Kaduna state. The latest victim, 54-year-old Attahiru, was appointed Chief of Army Staff in January, replacing Tukur Burutai. He was said to be on an official trip from Abuja to Kaduna when the aircraft encountered bad weather, and nosedived aground, killing the CoAS and his entourage of 10 officers in it. SOURCE
EAST ASIA
Immigration In Japan (Finally) Under Pressure
The Story
For months Japanese jailers said they 'thought' the young migrant from Sri Lanka was faking her illness, even as she wasted away before their eyes before dying alone in her cell.

Why did they think she was faking her illness?
While in detention she was threatened by her ex-boyfriend, now back in Sri Lanka. She thought she'd be safer in Japan, and with the encouragement of advisers at START, a local nonprofit, she decided to try to stay. That move irritated officials at the detention center, who demanded she change her mind. In late December Wishma fell ill with a fever. Within weeks she was having trouble eating, standing, and speaking. In late January 2021 a doctor prescribed her vitamins and painkillers, but they made her even sicker, so she filed for a provisional release.

Detention centers had already released hundreds of healthy detainees due to coronavirus concerns, but in mid-February Wishma's request was denied without explanation. She submitted a second request on medical grounds; by this time she was so weak she could barely sign the form. Despite the severity of her symptoms, officials waited until March 4 to take her to a hospital. A psychiatrist who examined her wrote that her START sponsors had told her that being sick would improve her chances of being released -- an allegation the nonprofit denies. Two days later the 33-year-old was dead.

Why was she detained?
Wishma Rathayake had a lifelong fascination with Japan. She entered the country in the summer of 2017 to study Japanese at a school in the Tokyo suburbs, hoping eventually to teach English. She met another Sri Lankan student in Japan who became her boyfriend. Sadly, after a series of unwise decisions, unfortunate events, and 'a now-expired residence permit', she found herself in a detention center a few hours south of Tokyo, awaiting deportation. It was August 2020.

What's Japan's immigration policy like?
Japan has a long history of hostility toward immigration. Despite being the world's third-largest economy, it settles less than 1% of asylum applicants --- just 47 in 2020. Critics of the country's immigration system say most decisions are made in secret; detainees who have overstayed their visas can be held indefinitely, with little access to courts. Detainees who apply for asylum, as Wishma did, are particularly unwelcome.

Public outrage
Critics say Wishma was the victim of an opaque and capricious bureaucracy that has nearly unchecked power over foreigners who run afoul of it. And while there have been other instances of inhumane treatment of foreigners that ended in death, especially for people of color, the particularly egregious circumstances of Wishma's death have driven national outrage to a whole new level.

Japan's immigration bureau is regularly attacked in the news media for its evasiveness about the causes of the young woman's death, and its refusal to release video footage of her taken in the detention center just before she died. Protesters have gathered almost daily in front of Parliament, and objections by opposition lawmakers have been unusually fierce. This case just might be the tipping point for Japan's immigration system. SOURCE
SPACE
Total Eclipse Of The Moon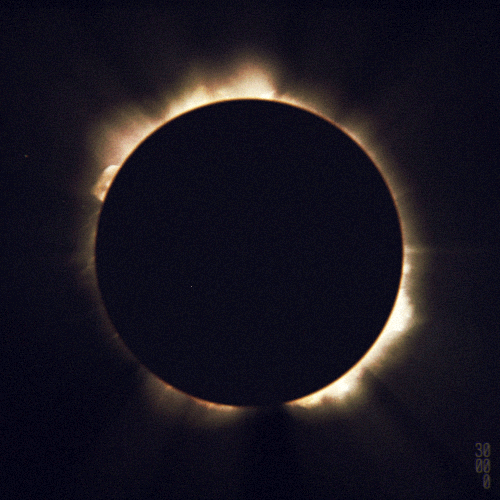 The Story
On May 26th of this year, we will see a full lunar eclipse called the Super Flower Blood Moon.

What's a full Lunar Eclipse?
A lunar eclipse occurs when the Earth passes between the Sun and the Moon, obscuring the Sun's light from Earth's orbiting satellite, and therefore drenching it in darkness. For a full lunar eclipse to take place, the Sun, Earth, and the Moon align in a straight line for a brief moment. This one is expected to last about 15 minutes.

Is it the same as eclipse of the sun?
No, they're different. When the Moon passes between Sun and Earth, the lunar shadow is seen as a solar eclipse on Earth, generally called eclipse of the sun. This full lunar eclipse is the first full lunar eclipse in two years. If you live near the West Coast, it should appear a little bit before 2:00 AM PST. Another full lunar eclipse will take place in May 2022.

How about the name?
The name is the real attention-getter for this event. A "blood moon" is so-called because of the red color, which is created when the atmosphere of the Earth bends sunlight and the red wavelength illuminates the surface of the Moon. A "super moon" is when a full moon and the Moon's closest path to Earth coincide. The full moon in May is called the "flower moon," named by the Algonquin tribes, as it coincides with the time of the year where flowers bloom across North America. SOURCE
NORTH AMERICA
Mystery Illness Still Unsolved
The Story
For five years investigators have struggled to explain the strange health experiences reported by U.S. diplomats and other government workers in Cuba, Russia, China, and elsewhere.

Strange health experience?
Yes, it includes episodes that in some cases have led to chronic headaches and brain injuries. Victims reported experiencing sudden vertigo, headaches, and head pressure, sometimes accompanied by a "piercing directional noise." Some victims said they were able to escape the symptoms simply by moving to another room -- but the symptoms returned when they returned to their original position.

Are there any traces of foul play?
In April CNN reported that federal agencies are investigating at least two possible incidents on U.S. soil, including one near the White House the day after the presidential election, and one several weeks later. The "anomalous health incidents" appear similar to the mysterious, invisible attacks that have come to be known as "Havana Syndrome."
The intelligence community still isn't sure who is causing the strange array of nervous system symptoms, or if they can be definitively termed "attacks."

What have the investigators found so far?
Even the technology that might cause such an inconsistent set of symptoms is a matter of debate. What they do know is that the number of suspected cases worldwide is increasing. Under pressure from lawmakers and victims, the Biden administration has dramatically ramped up its efforts to "identify the cause ... determine attribution, increase collection efforts, and prevent" the incidents.

The government has successfully identified and fielded a blood test that can point to some markers that may indicate exposure, but the test isn't enough to offer a clear diagnosis, and certainly won't say who or what is to blame. Meanwhile, it may be best not to stand too close to your microwave. SOURCE
WHAT ELSE IS FRESH...
We will capture subscribers' phone IDs automatically — NCC

ISIS won't get $7m bounty placed on Boko Haram's Shekau – US

NNPC makes zero remittance for May FAAC allocation

Kwara, Plateau top open defecation population — FG

Military crash: Investigation begins as AIB recovers black box, cockpit voice recorder

Altetico Madrid win 2020/2021 La Liga title

Twitter is finally letting users request the blue check again.


Backed by Israeli police, Jewish settlers enter Al-Aqsa compound
DR Congo volcano eruption leaves death and trail of destruction
Israel-Hamas ceasefire holds as UN launches Gaza aid appeal
Outcry as Belarus diverts flight, arrests opposition figure
US committed to 'giving Israel means to defend itself': Blinken
Pfizer, AstraZeneca effective against virus strain found in India
Iran says IAEA access to nuclear sites images has ended
Indian Olympic wrestling medallist arrested in murder case
TODAY'S TRIVIA
What is the meaning of the Latin root corpus?
a. Assembly
b. Body
c. Part
QUESTION & ANSWER
QUORA QUESTION:
What human in world history is the closest we had to a super hero in terms of strength, intelligence, unnatural abilities, etc.?
Jarred Dunn
This is the story of a real-life X-Man, with a mutant power much like David Dunn, the heroic security guard in the 2000 film Unbreakable.
In 1994, a Connecticut man was involved in a horrible car crash. Though a normal person would have received multiple broken bones, this man was uninjured.
X-rays showed no fractures at all.
This was unusual enough that the patient was referred to Dr. Karl Insogna, professor of internal medicine and director of the Yale Bone Center. Tests revealed that the unnamed man had a bone density eight times higher than the average man his age.
The man, called "John" in medical studies, had extremely dense bones and an uncommonly square jaw, but his skeleton was otherwise normal. When swimming, he would quickly sink to the bottom.
From The-Scientist article sourced below:
Six years later, Insogna heard a fellow physician mention he'd seen a family with very high bone mass. Together they traced the family tree, linking John to an extended kin group sprinkled up and down the Eastern seaboard.
One of the affected family members is a physician in Alabama. "He's had several failed hip replacements because they can't screw the prosthesis into his bone," Insogna says. "It's too hard." Studying the family, Insogna's team zeroed in on a region of chromosome 11 likely linked to the unusual trait.
Researchers identified a gene mutation called "LRP5," which was activated in John and his extended family. Their bones appear to remain strong throughout their lives, resistant to normal degradation as they age.
This breakthrough could be the key to treating Osteoporosis, a condition that causes decreased density in bones, leading to more fractures. Multiple studies are ongoing to unlock the power of this mutation for future treatments.
As awesome as it would be to imagine "John" and his family as Bruce Willis-esque crime-fighters, their unique superpower could still save countless lives. SOURCE
TRIVIA ANSWER
What is the meaning of the Latin root corpus?
b. Body
HUMANS OF THE INTERNET!
SHARE THE PRESS
Chances are you have some more friends who would enjoy Freshly Pressed as much as you do.
Use this referral link or share this link to them www.freshlypressed.ng/?r=