Good morning. In January 2019, a couple saw a Facebook post about seven siblings whose parents had died in a car crash, and decided to adopt them all so the siblings don't get separated in foster homes.
"If not us, then who?"I can't explain it — I just knew I was supposed to be their mom."
Hope in humanity restored!
- - -
P.S. Rewards await you when you invite your friends to subscribe to Freshly Pressed. Try it: www.freshlypressed.ng/?r=. You currently have ‍referrals.
☕️QUICK BITES
Belarus. There's outrage on both sides of the Atlantic after Belarus's president Alexander Lukashenko on Sunday scrambled a MiG-29 fighter jet to divert a packed Ryanair flight, and force an emergency landing in Minsk. The objective: to snatch the activist journalist Roman Pratasevich onboard. European leaders have moved to ban air travel to, from and over there.
United States. Activists nationwide are commemorating the one-year anniversary of the police killing of George Floyd. A crowd in Minneapolis, where Floyd was killed, held a moment of silence. Demonstrators carrying signs reading "Justice for George Floyd" marched in New York City, with some briefly blocking the Holland Tunnel.
Mali. Interim vice president, Colonel Assimi Goita has said that he seized power after the transitional president and prime minister failed to consult him about the formation of a new government. President Bah Ndaw and Prime Minister Moctar Ouane were arrested and taken to a military base outside the capital on Monday, prompting swift condemnation from international powers, some of which called it an "attempted coup"
China. Researchers at the Wuhan Institute of Virology became sick enough in November 2019 that they had to be hospitalized, according to a previously undisclosed U.S. intelligence report. The three scientists reportedly had symptoms consistent with Covid-19 a month before the first coronavirus cases were reported in Wuhan, giving support to the theory that the virus may have escaped from that lab. China has strongly denied the "lab leak" theory on how the virus originated.
‍RECOMMENDED
‍Become a Professional Web Designer in Step-by-Step Guide.
ONTHISDAY
1805 Napoleon Bonaparte is crowned King of Italy

1927 Henry Ford and the Ford Motor Company produce the last (and 15th million) Model T Ford / Tin Lizzie

2014 World Health Organization confirms that Ebola has reached Sierra Leone

2018 UEFA Champions League Final, Kiev: Real Madrid beats Liverpool, 3-1 for third straight title. Zinédine Zidane first manager to win 3 consecutive titles
ANTICORRUPTION
The Story
The House of Representatives is considering the discontinuation of the National Youth Service Corps scheme.

How are they going to do that?
The Constitution of the Federal Republic of Nigeria Alteration Bill, 2020, which is seeking to repeal the NYSC Act, has proceeded to a second reading. The sponsor, Mr Awaji-Inombek Abiante, a lawmaker from Rivers state, in the explanatory memorandum of the proposal, listed the various reasons why the NYSC should be scrapped.

What are the reasons?
The security and employment challenges in the country are the major reasons cited by the Bill's sponsor. It read in part, "This bill seeks to repeal Section 315(5)(a) of the Constitution of the Federal Republic of Nigeria, 1999, (as amended) on the following grounds: "Incessant killing of innocent corps members in some parts of the country due to banditry, religious extremism and ethnic violence; incessant kidnapping of innocent corps members across the country".

Exploitation of corps members by public and private agencies
The Bill also argues that "Public and private agencies/departments are no longer recruiting able and qualified Nigerian youths, thus relying heavily on the availability of corps members who are not being well remunerated and get discarded with impunity at the end of their service year without any hope of being gainfully employed".

Defeat of the scheme's original objective
According to the Bill, "Due to insecurity across the country, the National Youth Service Corps management now gives considerations to posting corps members to their geopolitical zone, thus defeating one of the objectives of setting up the service corps, i.e. developing common ties among the Nigerian youths and promote national unity and integration."

In a poll by The Cable news agency, more than 60% of respondents have indicated support for the Bill. The military regime of General Yakubu Gowon had established the NYSC on 22 May 1973, under Decree No. 24 of 1973 as a way of reconciling and reintegrating Nigerians after the Civil War ended. SOURCE
NIGERIA
Not a Cow-ard to Ban Grazing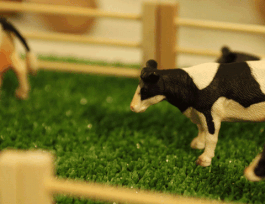 The Story
The Federal High Court in Abuja has affirmed the right of state governments to implement laws on open grazing.

Tell me about it
Justice Ijeoma Ojukwu gave the judgment in a suit seeking to compel President Muhammadu Buhari to direct security agencies in the country to enforce the Benue state Open Grazing Prohibition and Establishment Of Ranching Law passed in 2017. The suit brought by Matthew Tile Nyiutsa, a lawyer and Benue indigene, argued Buhari, by his oath of office, has an obligation to uphold and preserve the law of the land, but failed to do so when he refused to implement Benue's open grazing law.

How did the court rule on that?
According to the judge, 'the courts do not have the vires to entertain any suit bordering on compliance with the oath of office of the President for the reason that it is not justiciable'. "When the person, in this regard, the president, fails to abide by the oath, the National Assembly, in line with the set down procedure, may consider it a misconduct in the performance of the functions of his office and take the appropriate measure under the constitution", Ojukwu said.

What did it say about the open grazing law?
The court in its decision said it lacked jurisdiction to compel the president to abide by his oath of office. Ojukwu said the National Assembly has the responsibility to hold the president accountable. She, however, held that since the Open Grazing Prohibition Law 2017 was passed by the Benue House of Assembly and has not been voided by any competent court of law, the state has the power to carry out its implementation.

Constitutional Immunity
On the part of the suit concerning president Buhari's performance(or otherwise) of his duties, the judge emphasized the constitutional immunity protecting the occupier of that office from prosecution in a personal capacity while still in office. "It is not the duty of this court to adjudicate on. The plaintiff may have genuine concern in respect of the facts averred, but there are procedures set out by law to address issues concerning citizens' rights and violations," she added. SOURCE
RACE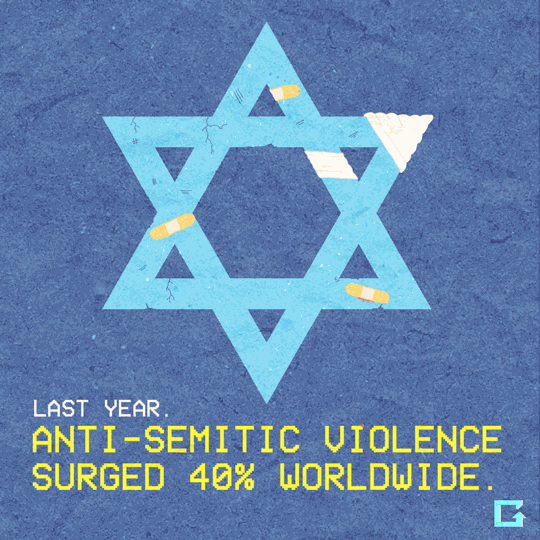 The Story
Anti-Semitism is on the rise.
Explain.
Anti-Semitic attacks are the single largest category of religious hate crimes reported in the US. In 2019, about 60% of religious hate crimes were anti-Jewish. In 2017, white supremacists shouted "Jews will not replace us" as they carried torches and Confederate flags. In 2018, 11 people were killed at a Jewish synagogue in Pittsburgh, the deadliest attack against Jews on US soil. But even as anti-Semitic incidents continue to rise, they've reached a fever pitch in recent weeks.
Go on.
Tensions have flared around the world over the Israeli-Palestinian conflict. After 11 days of fighting and more than 240 people killed – the vast majority of them Palestinian – Israel and Gaza agreed to a ceasefire. Amid the violence, peaceful protesters took to the streets worldwide, many in support of Palestinian rights. Standing up for Palestinian rights and criticizing the Israeli government does not amount to anti-Semitism. But the heightened tensions have given way to anti-Semitic language and attacks, including on social media. One analysis found over 17,000 tweets mentioned a variation of "Hitler was right" in recent days. It comes amid a broader surge of anti-Semitic violence in Europe.
Tell me more.
In 2019, Germany saw the highest number of recorded anti-Semitic hate crimes since authorities started gathering data in 2001. Austria has seen a similar trend. In Italy last month, hundreds of far-right protesters marched in the streets of Milan while appearing to do Nazi salutes. Now, anti-Semitic incidents in London have spiked a reported 500% in recent days – including an attack on a rabbi who was left hospitalized. And the incidents aren't limited to Europe. Synagogues have been targeted in the United States too. In Los Angeles, a pro-Palestinian group reportedly targeted Jewish diners at a restaurant, injuring five people. In Times Square, a Jewish man was beaten to the ground. Both incidents are being investigated as hate crimes.
What can we do?
Advocate for the safety and security of those who are marginalized. Call out language that demonizes an entire group of people. Get involved with local community groups that work toward ending hate crimes. And as with any minority group, you can show your support for businesses, activists, and individuals, including by reaching out to friends to see how they're doing.
It didn't start with this recent bout of Gaza violence
Anti-Semitism has been on the rise long before the latest bout of Israeli-Palestinian violence. Now, its appearance in some protests is harming efforts to advocate for Palestinians' rights. And exacerbating a longstanding sense of fear among Jewish communities. SOURCE
NATURE
Forests May Not Be Up A Tree
The Story
According to a recent study, forests around the world have regrown naturally over the last twenty years - with a total area adding up to the size of France.

How does this impact the planet?
It is a good development, especially in the race to reverse the negative effects of climate change. This natural forest regeneration has the potential to soak up 5.9 gigatonnes of carbon dioxide - more than the United States' total annual emissions.

Should we worry less about climate change?
Though there is a silver lining, efforts should still continue to stop deforestation and actively restore forests. "Deforestation still claims millions of hectares every year, vastly more than is regenerated," said William Baldwin-Cantello of the World Wildlife Fund. "To realise the potential of forests as a climate solution, we need support for regeneration in climate delivery plans and must tackle the drivers of deforestation."

Emissions still have to be reduced
Despite encouraging signs of forest regeneration, much has to be done if the world wants to stop the ever-looming climate crisis. Actively planting trees and allowing forests to naturally regenerate will help, but cutting emissions would be the number one method of conserving the world's ecosystems. SOURCE
WHAT ELSE IS FRESH...
Insecurity: Again, Osinbajo reiterates call for state police
Wakili, Fulani 'warlord',
CBN Governor promises digital currency will come to Nigeria

Name Gen Ahanotu next Army Chief to unite Nigeria, Ohanaeze youths tell Buhari

CBN adopts NAFEX rate on its website

Buhari flays Southern governor's open grazing ban, says it's power show

Petrol subsidy removal: NNPC awaits FG, labour resolutions

Ebonyi Explosion: Officer Accidentally Detonated Grenade – Police
Asaba declaration: Governors disagree as Presidency backs Malami on open grazing ban

Four killed as gunmen set ablaze Anambra, Enugu, Imo INEC offices

Indian strain: FG begins hunt for 90 isolation evaders Wednesday

FG bars 22-year aircraft from Nigeria, releases N5bn aviation bailout

Saudi Arabia orders mosques to use loudspeakers for only calls to prayer

EU tells airlines to avoid Belarus airspace after plane was forced to land

New York City will end remote learning by September.

French fashion mogul Bernard Arnault is the world's richest person

US Department of State and health officials warn against travel to Japan due to COVID-19

Twenty-one ultra-marathon runners die in China from extreme cold weather

George Floyd's family meets with Biden and Harris at White House
PICKS OF THE DAY
The Profound Potential of Elon Musk's New Rocket. Naulitus

WHAT I WANT IN THE 'ONE'. Medium

Long Slide Looms for World Population, With Sweeping Ramifications. NY Times
The Most Embarrassing Revelations in Apple's Antitrust Trial. Slate

Happy Is A Relative State. Longreads

The Mystery of Magic's Greatest Card Trick. NY Times

Banks Vs Bitcoins. The Republic

What if Remote Work Didn't Mean Working from Home? New Yorker

What Happens to Our Brains When We Get Depressed? The Walrus
TODAY'S TRIVIA
The word "hotel" originated in which language?

a. Latin
b. French
c. Creole
QUESTION & ANSWER
QUORA QUESTION:
How and why was Morocco the first country to acknowledge the United States as a separate country? Was Morocco important in the late 1700s? Did their acknowledgement impact other countries?
John Cate
I think the Sultan of Morocco had some bad dealings with the British not long before then, and his decision was in part a way of sticking it to the Brits.
He simply issued an order on 20 December 1777 that ships flying the flag of the United States of America were to be considered the same as any other sovereign nation-state. The two countries didn't establish formal diplomatic relations until after the war, but his order was de facto recognition of American independence by the Sultanate of Morocco. In fact, the Sultan even tried to make a trade agreement not long after, but we asked him to wait until after the war was over.
In 1786, the USA and Morocco negotiated a treaty of friendship which remains in force to this day. It is the oldest international treaty ratified by the United States that still remains in force.
Morocco did not just recognize breakaway states unilaterally. In 1863, a later Sultan ordered that Confederate ships not be accepted at Moroccan ports, because they were in rebellion against a country that was a friend of Morocco.
When Morocco freed itself from 44 years of French suzerainty in 1956, both countries considered that the 1786 treaty remained in force. They continue to be one of our best friends in this part of the world. SOURCE
TRIVIA ANSWER
The word "hotel" originated in which language?
b. French


BESHEL'S CORNER
HUMANS OF THE INTERNET!
SHARE THE PRESS
Chances are you have some more friends who would enjoy Freshly Pressed as much as you do.
Use this referral link or share this link to them www.freshlypressed.ng/?r=